Top Ten Tuesday is a weekly feature hosted by The Broke and The Bookish. Every week they post a new topic/top ten list and invite everyone to share their own answers. So here is my first go at it.
So many books are coming out but I thought I would share a small list of what I am looking forward to this year: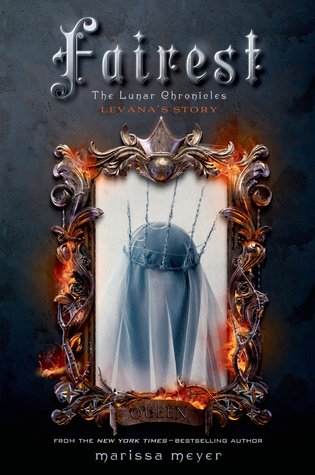 1. Fairest by Marissa Meyer
Publication date: January 27, 2015
In this stunning bridge book between Cress and Winter in the bestselling Lunar Chronicles, Queen Levana's story is finally told.

Mirror, mirror on the wall,
Who is the fairest of them all?

Fans of the Lunar Chronicles know Queen Levana as a ruler who uses her "glamour" to gain power. But long before she crossed paths with Cinder, Scarlet, and Cress, Levana lived a very different story – a story that has never been told . . . until now.
My Thoughts
I can't wait! I loved the first three books and this one will hold me until the final book comes out in November 2015. I already pre-ordered it so I should receive it right around that date but I might hold off and read it later in the year since such a long wait for the final book.
2. Tether (second book in the Many Worlds Trilogy) by Anna Jarzab
Publication date: Spring 2015
Tether, the sequel to Tandem, continues the captivating tale of rebellion and romance that spans parallel worlds.
My Thoughts
I just stumbled across the first book in Overdrive. I listened to the audiobook. and really enjoyed the concept.
Publication date: March 31, 2015
In her stunning new novel, Gruen returns to the kind of storytelling she excelled at in Water for Elephants: a historical timeframe in an unusual setting with a moving love story. Think Scottish Downton Abbey.
My Thoughts
What's not to like. Historical fiction, love and a  touch of Downton Abbey, I'm in!!
Publication date: April 7 2015
For nearly 300 years, the mysterious journal of Jacobite exile Mary Dundas has lain unread — its secrets safe from prying eyes. Now, amateur codebreaker Sara Thomas has been hired by a once-famous historian to crack the journal's cipher. But when she arrives in Paris, Sara finds herself besieged by complications from all sides: the journal's reclusive owner, her charming Parisian neighbor, and Mary, whose journal doesn't hold the secrets Sara expects.
My Thoughts
Oh man, I can't say enough about Susanna Kearsley. I really enjoy her books. So I am game when a new one comes out.
Publication  date: April 7, 2015
In her extraordinary debut, Aline Ohanesian has created two remarkable characters—a young man ignorant of his family's and his country's past, and an old woman haunted by the toll the past has taken on her life.

When Orhan's brilliant and eccentric grandfather Kemal—a man who built a dynasty out of making kilim rugs—is found dead, submerged in a vat of dye, Orhan inherits the decades-old business. But Kemal's will raises more questions than it answers. He has left the family estate to a stranger thousands of miles away, an aging woman in an Armenian retirement home in Los Angeles. Her existence and secrecy about her past only deepen the mystery of why Orhan's grandfather willed his home in Turkey to an unknown woman rather than to his own son or grandson.

Left with only Kemal's ancient sketchbook and intent on righting this injustice, Orhan boards a plane to Los Angeles. There he will not only unearth the story that eighty-seven-year-old Seda so closely guards but discover that Seda's past now threatens to unravel his future. Her story, if told, has the power to undo the legacy upon which his family has been built.
My Thoughts
The story sounds interesting. I look forward to adding this one to my 7 Continent's Challenge.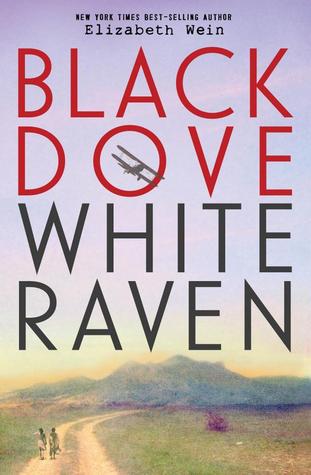 Publication Date: 31 March 2015

A new historical thriller masterpiece from New York Times bestselling and award-winning author Elizabeth Wein.


Emilia and Teo's lives changed in a fiery, terrifying instant when a bird strike brought down the plane their stunt pilot mothers were flying. Teo's mother died immediately, but Em's survived, determined to raise Teo according to his late mother's wishes-in a place where he won't be discriminated against because of the color of his skin. But in 1930s America, a white woman raising a black adoptive son alongside a white daughter is too often seen as a threat.
My Thoughts
I own Code Name Verity and have not read it yet but I love historical fictions and that one received so much praise. So I will add this to another from her that I will read.
Publication Date: 5 May 2015

And these are they. My final moments. They say a warrior must always be mindful of death, but I never imagined that it would find me like this…


Japanese teenager, Sora, is diagnosed with ALS (Lou Gehrig's disease). Lonely and isolated, Sora turns to the ancient wisdom of the samurai for guidance and comfort. But he also finds hope in the present; through the internet he finds friends that see him, not just his illness. This is a story of friendship and acceptance, and testing strength in an uncertain future.
My Thoughts
This sounds like a moving story that will open my eyes even more to ALS. I am very happy that this is a young adult book because it's important for us all to learn more about this disease.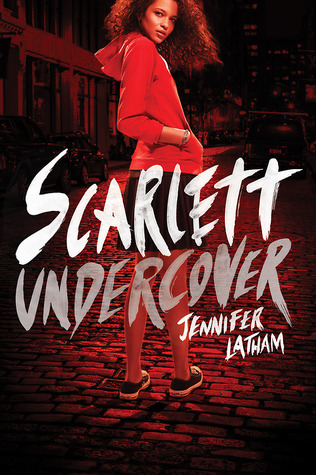 8. Scarlett Undercover by Jennifer Latham (picked by Mandy C.)
Publication Date: 19 May 2015

A voice-driven mystery perfect for fans of Veronica Mars.

Meet Scarlett, a smart, sarcastic, kick-butt, Muslim American heroine, ready to take on crime in her hometown of Las Almas. When a new case finds the private eye caught up in a centuries-old battle of evil genies and ancient curses, Scarlett discovers that her own family secrets may have more to do with the situation than she thinks — and that cracking the case could lead to solving her father's murder.

Jennifer Latham delivers a compelling story and a character to remember in this one-of-a-kind debut novel.
My Thoughts
A  young adult featuring a minority, well that's just very rare. So I will definitely support diversity in all genres.  I like the idea of a mystery and I did enjoy Veronica Mars back in the day.
9. Winter by Marissa Meyer
Publication date: November 24, 2015
This book will feature Cinder and Snow White and will take place on the moon.
My Thoughts
No cover yet. A long wait for the final book in this series. I hate the long wait but will read Fairest later in the year to stretch it out.  Ok, so I might actually read it when I get it later this month but you can't blame a girl from trying to have a little patience.
Publication date: February 10, 2015 (This is a re-issue in paperback. It was originally published in 1998)
An eloquent, epic firsthand account of the civil rights movement by a man who lived it-an American hero whose courage, vision, and dedication helped change history. The son of an Alabama sharecropper, and now a sixth-term United States Congressman, John Lewis has led an extraordinary life, one that found him at the epicenter of the civil rights movement in the late '50s and '60s. As Chairman of the Student Nonviolent Coordinating Committee (SNCC), Lewis was present at all the major battlefields of the movement. Arrested more than forty times and severely beaten on several occasions, he was one of the youngest yet most courageous leaders.
My Thoughts
More non-fiction for me. I want to mix it up this year and read more non-fiction and this is one man I know little about but is so important.
Well I hope you enjoyed my list. Are there any good books you know that are coming out in 2015? Please share. I'm always looking for another book to add to my list of reads.
Happy Reading!
Belinda